ScopServ is happy to announce that we have completed integration with Microsoft Teams



Make and receive work calls on any device anywhere.

Works with Microsoft Teams on PC, Mac or Mobile.

Quick & simple implementation in minutes.

No hardware or software.

Simple low cost monthly subscription.

Integrates each Microsoft Teams user with a ScopTEL SIP Extension.

Enterprise grade encryption and security built-in.

How it works:



Contact your ScopServ representative to purchase ScopTEAMS licensing and get your ScopTEAMS Admin Portal Credentials. ScopTEAMS Licenses are billed per user/month and do not include either Microsoft Teams licenses or ScopTEL User licenses on your ScopTEL PBX.

Toll Free: 1 866 722 3292

For details on licenses please contact your sales representative at ScopServ.


Add Microsoft Common Phone System licensing to your Office365 management account. ScopServ does not sell Microsoft Licensing so you must purchase Microsoft licensing from your Microsoft vendor or by using your Office365 Management Portal. ScopServ does not support the Teams installation on the customer desktop. Teams may be downloaded directly from Microsoft at https://www.microsoft.com/en-ca/microsoft-365/microsoft-teams/download-app if you have not already installed Teams within your organization.

One license is required for each user that wishes to connect to Microsoft Teams and is associated with a SIP Extension on ScopTEL thus turning your Microsoft Teams client installation into a SIP Soft Phone registered directly to your ScopTEL PBX. You may also wish to use a ScopTEL Shared Device license to twin your deskphone with your Teams Client. See: https://service.scopserv.com/portal/en/kb/articles/how-to-share-one-extension-with-multiple-sip-devices

One Active User license with Global Admin rights is required to login as a proxy to ScopTEAMS to run an automatic sync with Microsoft licenses and import them into the ScopTEAMS online management portal.

One unallocated license for 'Common Area Phone' is also required on behalf of the ScopTEAMS Power Shell Proxy account (customer's Global Admin account).


For details on Microsoft Licensing refer to:

Recommendations:

Do not add a calling plan or 'Meeting Room' unless you wish to provide localized dial in numbers for audio conferences (your ScopTEL already provides Conference functionality) or 'Skype for Business'. The basic pre-requisite for Microsoft E1/E3 licenses is 'Common Area Phone'. If you already have Microsoft E5 licensing no additional licensing should be purchased.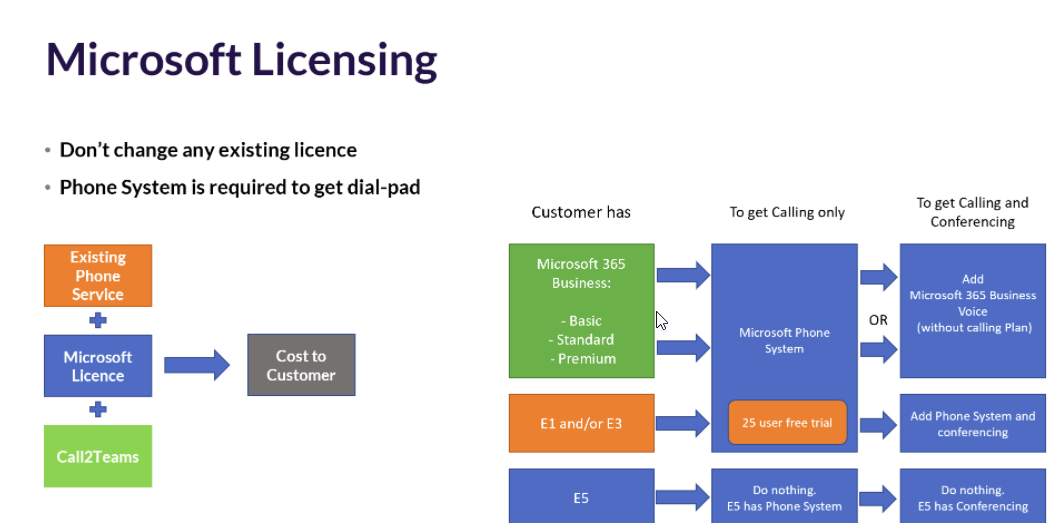 Create Microsoft Teams domain records on your Microsoft Admin portal.

The ScopTEAMS Sync will attempt to create Microsoft Teams DNS records for your organization's domain.

However if this fails then refer to: https://support.call2teams.com/support/solutions/articles/6000231997-why-do-my-domains-show-incomplete-setup-

If you would rather configure your own DNS records then refer to: https://docs.microsoft.com/en-us/microsoft-365/admin/get-help-with-domains/set-up-your-domain-host-specific-instructions?view=o365-worldwide


Login to your ScopTEAMS admin portal,which you will receive after you have purchased your sku's.

Click on the Menu Service tab and create a PBX record

Click on the Teams tab to Sync Users.

This will add a list of users to ScopTEAMS which can be assigned to ScopTEL PBX SIP Extensions. For details on ScopTEL Extension's Authentication refer to: https://service.scopserv.com/portal/en/kb/articles/module-8-scoptel-extensions-management


Click on the Menu Users tab and Click Add User to see all the Microsoft users that were imported during the Sync

Choose a user from the list and fill in the fields for PBX/Trunk, SIP Username, Password. The Username and Password fields are copied from the ScopTEL SIP Extension from ScopTEL's Authentication tab.


Once you have added the PBX, and Users and completed the Sync, the new users will authenticate with ScopTEL. This associates each Teams user with a ScopTEL PBX Extension using Microsoft Teams as a soft phone. Using the ScopTEAMS Management portal you can see the realtime registration and busy status of each extension.

Microsoft Teams will be able to dial local PBX extensions and PSTN Trunks configured on ScopTEL. All access to local extensions, features, and lines will be controlled by the ScopTEL SIP Extension's Class of Service. Integration between ScopTEL and Teams is very tight because Teams becomes a SIP Extension registered to ScopTEL!
Pre-requisites:



The Teams Client registers from a remote IP address so ScopTEL does require the SIP Extension to be configured as NAT.

Teams will also register from remote IP's that must be allowed by any firewall to connect to the ScopTEL installation. If whitelists are required then the external IP's of the ScopTEAMS SBC are:

34.200.40.117:13370, 44.227.106.239:12416

https://service.scopserv.com/portal/en/kb/articles/scoptel-configuring-scoptel-for-nat

Optional recommendations for SRTP/TLS: