Auto Attendants

Also known as an IVR Menu.

In typical usage an Incoming Line is set according to a schedule to an Auto Attendant Menu Destination.

Once the Auto Attendant answers a call the caller is prompted to enter DTMF entries from their keypad.

Once the DTMF entry is matched then the Auto Attendant routes the call.

DTMF inter digit timeouts are used to prevent conflicts with single digit entries Vs. extension numbers.

An unlimited number of Auto Attendant menu objects can be created in the ScopTEL GUI.

Multiple languages are supported, including English, French, Spanish.

Click Add a new Auto Attendant to get started.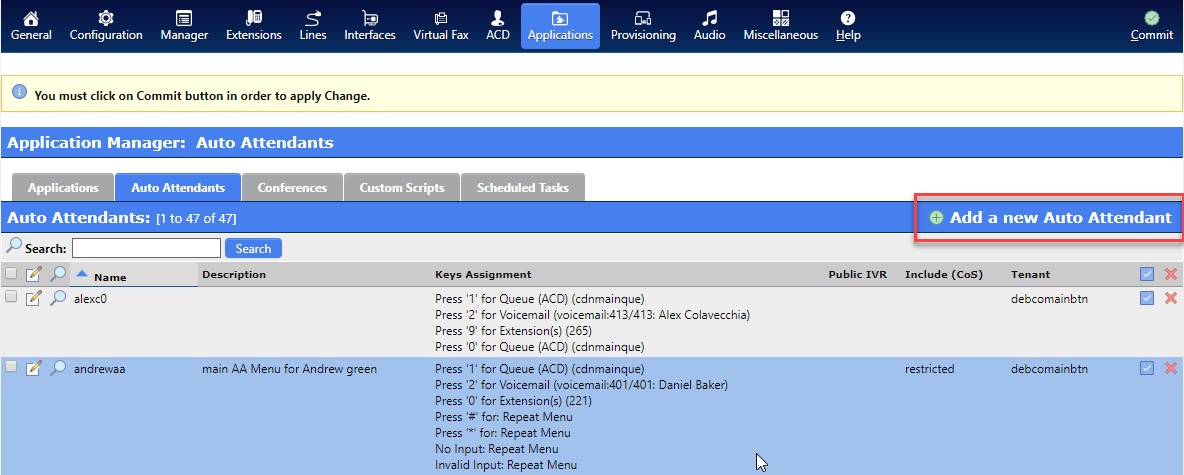 On the General tab select a tenant and give your AA menu a useful name.

Click on the Options tab.





Choose a Language to set the system prompt language

Select one or more Announce Message(s) which are played back in order when the AA menu answers.

Check Allow to dial local extension in order to allow local digit dialing from this AA menu.

Use EXTREME caution if you Include ANY CoS objects from the Include other Class of Service list. If any Class of Service is allowed then any object in that Class of Service can be dialed from the AA menu and this includes Outgoing Lines. This option is not required for the AA menu to function normally.

Click on the Keys Assignment tab to continue.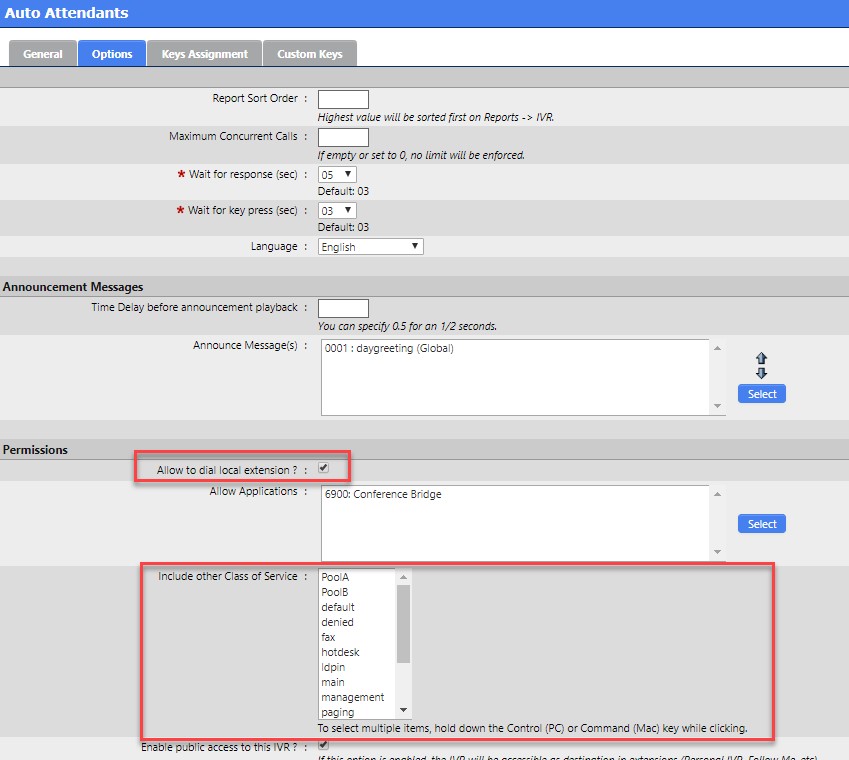 Choose a Destination for each required single digit DTMF entry and for each timeout option. Destinations options include:

Application

AGI Script

Auto Attendant

Busy Tone

CallBack Request

Company Directory

Class of Services Lookup

DISA

Conference

Go to next Destination

Queue (ACD)

Direct Agent (ACD)

Virtual Fax

VXML Script

Voicemail

Custom Script

Extension(s) (internal extensions and PSTN redirect including support for Pause and Hook Flash)

Hangup

Park and Announce

Play a Message(s)

Go to previous Destination

Route to Agent (ACD)

Repeat Menu

VoIP Account

Trunk (TDM)

Route By PIN

Click Add when done.